The Truth About Procrastination
My friend Dean Graziosi sent this to me, and I agree with all he says so completly that I wanted to share it with you:
Happy Sunday shihansteve. I've got a powerful message from the heart for you today.
And if you think you know where I'm going with this – I bet you'll be surprised 😉
We've all had the negative thought that tells us "you should be doing more" or "you should have accomplished more by now" or "why haven't you done that yet?"
And I know how it feels to have that little voice in your head make you think you're not where you want to be because you're lazy or keep procrastinating.
But a closer look at our lives usually proves that's not the case.
If you're a parent, a partner or a member of a team, you can easily look back and see a long list of proof that shows you're not lazy.
Why? Because the truth is, there's plenty of amazing things and hard work you had to do to get where you are right now.
So then what really leads us to procrastinate and how do we overcome it?
Here's the truth most people never learn:
Procrastination or laziness is usually caused by FEAR.
It's perfectly natural that when you try something new or different you'll feel uncertain.
When it's your first time doing things like selling what you know online, putting out content or starting a new habit for more success in your life… it's inevitable that fear will creep in.
Sure, sometimes it's scary to try new things. And fear happens when our mind kicks into survival mode and tries to stop us from doing anything scary.
But here's what we all must ask ourselves… isn't it MORE scary to stay where we are and never grow?
Truth is shihansteve, it's always gonna be scary to challenge yourself to CHANGE.
But that's a dragon that's ALWAYS worth slaying because it's the only way to become the better version of you in your life, work and relationships.
So here's what we can all do today to slay the procrastination dragon for good 😉
Get clear on what we're afraid of or avoiding.
We all need to realize that we could write down every single thing that could go wrong if we were to TRY and we'll likely see none of them are life-threatening. So why let fear that can't hurt us stand in the way of our goals?
Look at your goals EVERY single day.
Feel the emotion of what it will be like when you reach those goals. The way to turn goals (like starting your own business or getting in the best shape of your life) into a reality is by attaching an emotion to it. And on the flip side, feel what it's like if you never achieve those goals. Let that consequence of inaction sink in and make your motivation stronger.
Challenge yourself to do what you'd do if you weren't scared
Now that you're clear on what you're afraid of and you know how it would feel to get to where you're trying to go… why have regret in the end when you can GO FOR IT today?
Write those 3 things down and revisit them throughout this week 🙂
Can you see why I had to share it?
Dean's advice is SOOOO relevant to what we do.
And it's relevant to you!
If you are on your quest to become a Blackbelt Leader, what a great reminder to stay the course and keep your goal in sight and mond every day!
And, if you're testing for your Blackbelt this month, and feeling a little scared, some great reminders too, aye?
And, if you haven't started training yet, but have ever considered it, then it's especially for you!
Prepare To Live; Empower To Lead!
Grand Master Stephen J. Del Castillo
Founding Master Instructor, Krav Maga Martial Arts
TampaKravMaga.com         StephenDelCastillo.com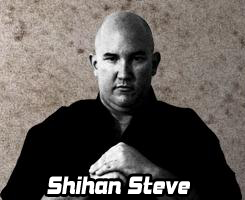 About Grandmaster Stephen J. Del Castillo: Grandmaster Del Castillo is the founding Master Instructor of Krav Maga Martial Arts and has been empowering lives in Pasco and Hillsborough Counties since October of 2000. He is a 7th degree Blackbelt, MBA, author, mentor and success coach, a US Army Veteran and a proud father and grandfather. He is married to Ms. Barbara Del Castillo who helps him run the school. Grand Master Del Castillo began his training in the early 80's and has high level blackbelts in Tae Kwon Do, Karate, Premier Martial Arts and Krav Maga Martial Arts as well as experience in kickboxing, Jeet Kune Do and Jiujitsu. He has high level instructor certifications from BBSI, IKMF, and KMG and has been featured in numerous Martial Arts publications and also Success magazine. He was a competitive sport karate and American Kickboxing instructor until he enlisted in the US Army where he served in the 82nd Airborne Division, where he won an Army Green to Gold scholarship and proceeded to ROTC and the University of Tampa. He was commissioned in 1992 and went on to serve in Germany with the 3rd Infantry Division and then in several other posts in the US until he left military service to pursue his dream of creating KMMA in 2000.
The Krav MagaMartial Arts Headquarters is in Lutz, FL at 1900 Land O' Lakes Blvd., 33549. Krav Maga Martial Arts serves Lutz, Land O' Lakes, Wesley Chapel, and surrounding areas.
See stephendelcastillo.com for more information and to order my book, Developing Your Superpower, Meditations on Mastery, Volume 1.
Also, check us out on Fun4TampaKids & on Go2Karate.com