Flow state is that state of mind in which you are totally focused, "in the zone", having fun and making things happen.
In flow, you are creative, productive and performing at a higher level.
According to Wikepedia:
In positive psychology, a flow state, also known colloquially as being in the zone, is the mental state in which a person performing some activity is fully immersed in a feeling of energized focus, full involvement, and enjoyment in the process of the activity. In essence, flow is characterized by the complete absorption in what one does, and a resulting transformation in one's sense of time.[1] Flow is the melting together of action and consciousness; the state of finding a balance between a skill and how challenging that task is. It requires a high level of concentration. Flow is used as a coping skill for stress and anxiety when productively pursuing a form of leisure that matches one's skill set.[2]
    I recently listened to an amazing podcast about flow.
Fair warning in advance, it's long and quite academic, but quite educational on the subject and worth the listen if you have the time and inclination.
You can listen to it here. 
At any rate, in it flow expert Steven Kotler says that most of us have primary and secondary "triggers" that get us into flow.
Upon reflection, my primary triggers are riding (my Harley), teaching (especially martial art and leadership) and writing.
My secondary are probably training (especially leadership and martial art), reading and walking (my dog around my lake).
When I get in flow I feel great, perform great, have great ideas and…
well, you know, just flow.
The great thing about flow is that I feel great and it helps me help others feel and be great too.
Steven Kotler does a great job with the science of flow in the podcast but I'll tell you what I choose to believe as well.
    I flow best when I am doing the things God has called me to do. 
I guess, as I say that, there are different kinds of flow too…
there is the flow where I am receiving input- like a long ride along a country road on a cool day is some of the best communion with God in which I have the greatest ideas that I have to write down as soon as I stop moving, to act upon later.
He gives me ideas to write about, ideas about business and ideas on how we can even better serve our tribe through our mission at Krav Maga Martial Arts.
And then there are those flows in which I am delivering, like when I sit down to write for you this morning, when I'm training my team well, having a crucial conversation or when I am teaching students.
 I love to flow while serving. Teaching or talking to someone who needs it are examples and, don't get me wrong, I also pray and prepare for these things in advance, but then when I do the thing…
sometimes it's like it just does itself.
Maybe its flow, maybe it's the Holy Spirit sometimes.. maybe flow is one of the ways the Holy Spirit works in and through us.
I don't know for sure, but I'm grateful for it.
I think you flow too. 
And if you don't, you will when you find what will do it for you.
By the way, Kotler says in the podcast that part of getting in flow is just slowing the prefontal cortex, that part that handles planning, decision making and such…
Like when we stop thinking so hard and fast about all we have to do and just be.
I think it's why rides, walks and martial arts training help.
These help us leave our busy lives and worries behind for a while and be in the moment. 
I see this focus in many of my students when they're training at the school.
And then the second flow state, which I alluded to earlier, is the one we experience when we do what we are called to do…
                           for me teaching and writing.
What is it for you? 
Come flow with us at Krav Maga Martial Arts!
Start this year and we'll turn your 2 week orientation program into a full month for free! And even throw in a free starter uniform!
Call 813-948-4844, visit TampaKravMaga.com, or email my Program Director and new KMMA Blackbelt, John Warwick.
Come flow with me.
Prepare To Live; Empower To Lead!
Grand Master Stephen J. Del Castillo
Founding Master Instructor, Krav Maga Martial Arts
TampaKravMaga.com         StephenDelCastillo.com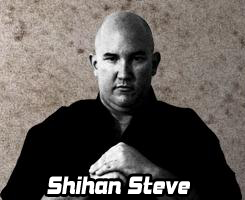 The KMMA Blackbelt Leadership Program would like to invite YOU to our monthly Blackbelt Leadership seminar this Saturday Oct. 28.
This is the monthly event especially for leadership students but ALL students, guests and families are invited and encouraged to attend.
And while I'll take full responsibility for the clever theme of the event, I'll also take responsibility for this:
This will be a serious self defense seminar in which I will be teaching defense against various attacks including knife and other weapons and will include training in technique, principles and mindset for self defense.
parental guidance is recommend and, in fact, you should join them on the mats!
I guarantee everyone will have fun and leave better equipped to defend themselves and others.
Shihan Harley, Sensei Winston and Sensei Allie will all be helping me, so we'll also be able to split into age groups so everyone gets exactly the training they most need when we need to.
Every student or family member who joins also wins a free month and uniform to learn some more.
See you soon!
TampaKravMaga.com and Krav Maga Martial Arts have been empowering lives through the martial arts in the Tampa Bay area for 20 years!
Founded in 2000 by Grandmaster Stephen J. Del Castillo, a 7th degree Black Belt and Sr. Master Instructor, Krav Maga Martial Arts and Karate lessons for pre-school children ages 3-6 and elementary age kids ages 7 and up are designed to develop the critical building blocks kids need – specialized for their age group – for school excellence and later success in life.
Krav Maga Martial Arts Adult Krav Maga training is a complete adult self defense, fitness, and conditioning program for adults who want to learn real world self defense, lose weight, and/or get (and stay in shape).
If you have any questions about our program, or would like to go ahead redeem your 2 weeks FREE, you can call us anytime at 813-547-6368 or visit our Krav Maga Martial Arts website.
About Grandmaster Stephen J. Del Castillo: Grandmaster Del Castillo is the founding Master Instructor of Krav Maga Martial Arts and has been empowering lives in Pasco and Hillsborough Counties since October of 2000. He is a 7th degree Blackbelt, MBA, author, mentor and success coach, a US Army Veteran and a proud father and grandfather. He is married to Ms. Barbara Del Castillo who helps him run the school. Grand Master Del Castillo began his training in the early 80's and has high level blackbelts in Tae Kwon Do, Karate, Premier Martial Arts and Krav Maga Martial Arts as well as experience in kickboxing, Jeet Kune Do and Jiujitsu. He has high level instructor certifications from BBSI, IKMF, and KMG and has been featured in numerous Martial Arts publications and also Success magazine. He was a competitive sport karate and American Kickboxing instructor until he enlisted in the US Army where he served in the 82nd Airborne Division, where he won an Army Green to Gold scholarship and proceeded to ROTC and the University of Tampa. He was commisioned in 1992 and went on to serve in Germany with the 3rd Infantry Division and then in several other posts in the US until he left military service to pursue his dream of creating KMMA in 2000.
The Krav MagaMartial Arts Headquarters is in Lutz, FL at 1900 Land O' Lakes Blvd., 33549. Krav Maga Martial Arts serves Lutz, Land O' Lakes, Wesley Chapel, and surrounding areas.
Also, check us out on Fun4TampaKids & on Go2Karate.com