Today I want to share on something that's been heavily on my heart.
   I am seeing so many people just give up on things they said were important to them.
Don't get me wrong; I too go through moments of weakness sometimes.
   What's important when these moments happen to us is that we don't stay there long.
As pertains to physical self defense I teach my students that there are 3 levels:
·        Technique- The first is technique, which is the specific best way to deal with the problem. The goal is to train the technique so often in practice that the proper response flies out naturally when the student is confronted by violence.
·        Principle- When technique fails or escapes us, however, we rely upon certain principles of krav maga that inform us on what to do.
·        Attitude- The third and arguably most important level is attitude. When nothing is going according to the plan, the attitude that one will never quit and will fight as hard as possible as long as neccesary- which is to say until one wins or dies- is the most important thing.
We train each of these extensively in my dojo.
    It is the third that I want to address today, not as pertains to an attack of physical violence but as pertains to the attacks that many are experiencing today.
·        I'm tired of seeing my friends with small businesses fall.
·        I'm tired of seeing students quit on their goals.
·        I'm tired of seeing people letting their circumstances crush their spirit and steal their soul.
There is no reason for any of that. I'm not saying it's not hard.
   The coronavirus and our collective reaction to it, as well as other attacks upoon our collective consciousness, our economy, our families and our country, have been challenging to us all and devastating to some.
But here are some things that we can do to deal with it:
1.  DON'T GIVE UP on your goals! The hard times are the best times to dig deeper and find out what you are made of and who you are called to be.
2.  Surround yourself with the right people. Following great leaders and being associated with positive people and groups that inspire, motivate, edify and uplift you is always important, but ESSENTIAL in difficult times.
3.  Be Flexible. Improvise, adapt and overcome. In order to not give up on your dreams you may have to change the plan. A great mentor once tought me, it's OK to change the plan just not to change the goal. So if you have to wear a mask, wear a mask; if you have to train virtually because you are quarantined, do that. It's OK and even noble to have to adapt how you train or how you chase your goals, but it's not OK to use the situation as an excuse to quit or stop training!
We have 3 different vehicles to help you accomplish your goals at Krav Maga Martial Arts.
   You can train live in the dojo, live virtual or on-demand.
Get with me if I can help you start, or start back, to any or all of these. It's really impressive work my team has done to make sure we are still offering world class service in the midst of this world class pain in the pandemic.
   I'm also available to talk if you need help getting your attitude right to start back on your goals, set them, renew them and get them!
                         Whatever they are- training or otherwise.
We will all have a story to tell on the other end of this battle.
   Let's make sure it's a happy one.
               STEPHEN J. DEL CASTILLO
               Founder and Chief Master Instructor
               813-948-4844     ShihanSteve@TampaKravMaga.com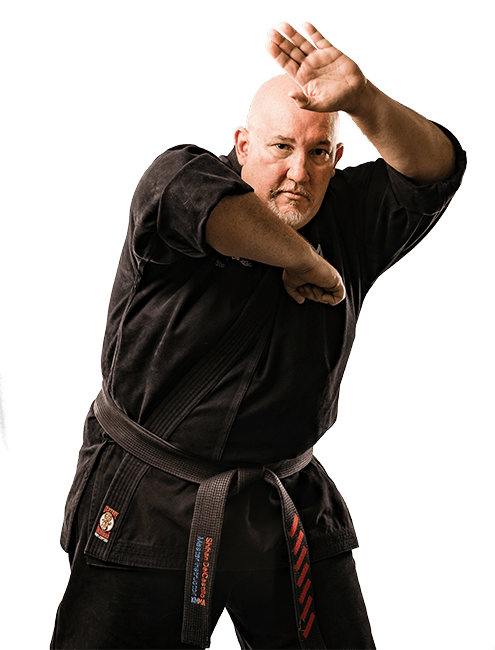 Pray for the best,
                      train for the worst.
               And NEVER QUIT! 
                       only then do you lose for sure.
TampaKravMaga.com and Krav Maga Martial Arts have been empowering lives through the martial arts in the Tampa Bay area for 20 years!
Founded in 2000 by Grandmaster Stephen J. Del Castillo, a 7th degree Black Belt and Sr. Master Instructor, Krav Maga Martial Arts and Karate lessons for pre-school children ages 3-6 and elementary age kids ages 7 and up are designed to develop the critical building blocks kids need – specialized for their age group – for school excellence and later success in life.
Krav Maga Martial Arts Adult Krav Maga training is a complete adult self defense, fitness, and conditioning program for adults who want to learn real world self defense, lose weight, and/or get (and stay in shape).
If you have any questions about our program, or would like to go ahead redeem your 2 weeks FREE, you can call us anytime at 813-547-6368 or visit our Krav Maga Martial Arts website.
About Grandmaster Stephen J. Del Castillo: Grandmaster Del Castillo is the founding Master Instructor of Krav Maga Martial Arts and has been empowering lives in Pasco and Hillsborough Counties since October of 2000. He is a 7th degree Blackbelt, MBA, author, mentor and success coach, a US Army Veteran and a proud father and grandfather. He is married to Ms. Barbara Del Castillo who helps him run the school. Grand Master Del Castillo began his training in the early 80's and has high level blackbelts in Tae Kwon Do, Karate, Premier Martial Arts and Krav Maga Martial Arts as well as experience in kickboxing, Jeet Kune Do and Jiujitsu. He has high level instructor certifications from BBSI, IKMF, and KMG and has been featured in numerous Martial Arts publications and also Success magazine. He was a competitive sport karate and American Kickboxing instructor until he enlisted in the US Army where he served in the 82nd Airborne Division, where he won an Army Green to Gold scholarship and proceeded to ROTC and the University of Tampa. He was commisioned in 1992 and went on to serve in Germany with the 3rd Infantry Division and then in several other posts in the US until he left military service to pursue his dream of creating KMMA in 2000.
The Krav MagaMartial Arts Headquarters is in Lutz, FL at 1900 Land O' Lakes Blvd., 33549. Krav Maga Martial Arts serves Lutz, Land O' Lakes, Wesley Chapel, and surrounding areas.
Also, check us out on Fun4TampaKids & on Go2Karate.com